2017 was a very successful year for us. In 2017 we've published 10 MyArcadePlugin and 4 MyArcadeTheme releases. MyArcadePlugin got 19 new features, 8 Fixes and 16 improvements. Here are the three most considerable changes:
1. Two new game distributors have been added (GameDistribution and 4J)
2. Option to import IBPArcade HTML5 games in TAR format
3. Integrated Statistics to track user activities
The changes made on MyArcadeTheme where mostly triggered by our users. We have tried to fulfill every wish that came from our users.
Since 2017/09/08 we are able to collect statistics from MyArcadePlugin sites if the user has allowed data sending. We would like to show you a few interesting facts about sites that use MyArcadePlugin in 2017. These stats are based on information provided by more than 1,000 sites:
It was interesting to see that "only" 49% have updated their sites to the latest WordPress version. There are 3% of sites which use WordPress versions that have been published in 2016.
Over 64% sites run with PHP versions that have been released before 2015.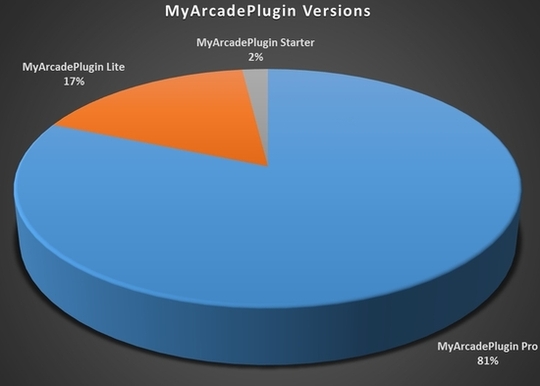 The most uses MyArcadePlugin edition is the Pro edition. We have noticed that many sites have upgraded from Lite or Starter to Pro after a short period of usage.
Our default WP Arcade Theme (MyArcadeTheme) is the most used theme in the arcade niche. With FunGames and MyArcadeTheme we have a 57% market share.
Popular Plugins chart is very interesting and important for us. It allows us to see what Plugins our users use that we can improve the support/integration for those plugins. The percentage value shows on how many sites the particular plugin is active.
SEO is one of the most important things in the online games industry. It's terrifying to see that 55% of all sites don't use any SEO Plugins. If you want to make money with your arcade site then it's strictly recommended to use a SEO Plugin!
Besides of SEO the site loading speed is another important factor. Over 71% of sites don't use a caching plugin. Don't ignore the site speed. Install a Caching Plugin if you want to have success with your site!
Do you find those stats interesting? Leave a comment with your opinion.